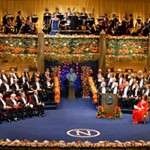 Media release, November 5, 2012
The 2012 Nobel Peace Prize
is unlawful and
cannot be paid to the EU
– The 2012 Nobel Peace Prize to the EU is unlawful and cannot be paid, says the International Peace Bureau, IPB, in a letter today to the Nobel Foundation in Stockholm.
The demand from IPB is based on the fact that the Nobel Foundation is by law responsible for overseeing that all the five Nobel Prizes are awarded in accordance with the will and testament of Alfred Nobel.
– The latest prize to EU may even be seen as directly contradicting the purpose to reach demilitarized international relations, the purpose Alfred Nobel had with his prize.
IPB refers to the Swedish Foundations Authority (Länsstyrelsen in Stockholm) decision of Mars 21, 2012, which underlined that all prizes must comply with the purpose Nobel described in his will, and clarified that under the Swedish Foundation Act the Swedish Nobel Foundation has the supreme authority and responsibility also for the decisions made by the Norwegian Nobel Committee.
– The European Union, announced by the Norwegian Nobel Committee as the winner of the peace prize for 2012, clearly is not one of "the champions of peace" Alfred Nobel had in mind and described in his will as "the person who shall have done the most or the best work for fraternity between nations, for the abolition or reduction of standing armies and for the holding and promotion of peace congresses."
The IPB, today a global network of 320 peace organizations, in its letter to the foundation explains how it originates from the same time and ideas as the peace prize. IPB was established among others by the 1905 Nobel Laureate Bertha von Suttner, who convinced Alfred Nobel to support her Austrian Peace Society, where he became a member, and he also gave financial support to the IPB. Suttner persuaded Nobel to include a prize for the realization of her vision of a demilitarized world system in his will.
– There are numerous qualified candidates working for the true purpose of Alfred Nobel, IPB says in its letter, and, in addition to demanding that the 2012 prize cannot be paid, demands the Nobel foundation to urge the Norwegian Nobel Committee in its future selection of prize winners to follow the will and testament of Alfred Nobel.
Letter November 5, IPB to the Nobel Foundation, attached.
For comments, please contact the IPB co-presidents
Tomas Magnusson +46 708 293197
Ingeborg Breines, +47 900 31659
IPB is a global network of 320 peace organizations in 70 countries. Headquarter in Geneva. www.ipb.org